In Yo WhatsApp, online status refers to when the user last used the in-platform, and whether they are currently using the program. In addition, Last Seen does not mean the person has seen your most recent message, but rather when they used WhatsApp last. A blue check mark next to your message is the only way to know if someone has seen it.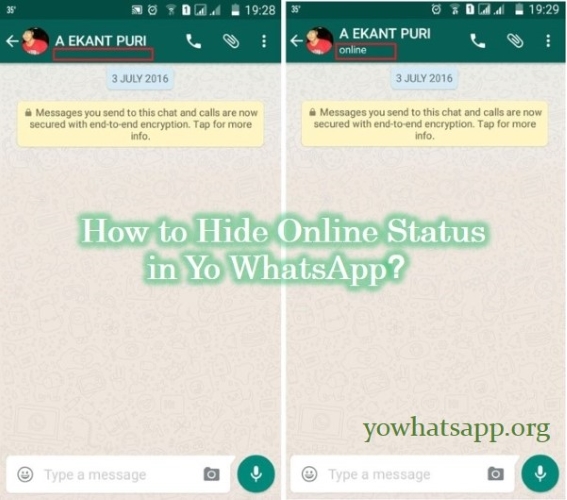 How to Hide Online Status to Enhance Privacy Protection
To give yourself a bit of privacy, the status can easily be hidden or restricted by changing the setting in the app. So that it won't be visible to everyone, only to specific contacts. Here's how to hide online status on Yo WhatsApp, along with how to hide last seen in detail.
How to Hide Online Status on Yo WhatsApp?
Now that hiding the last seen time is shown, here is another powerful way to protect your privacy select those people who can view whether you are online or not. Here's what to be done:
A setting for "Who can see when I'm online" has been added to the same settings page as the "Last Seen" status. Simply enable "Same as last seen".
Warm Tip: Note that traditional WhatsApp using the Last Seen feature to hide WhatsApp's online status has the limitation that you cannot see other people's online status at the same time. But YoWhatsApp doesn't have this problem, it enables a unidirectional feature restriction. In other words, the feature is unidirectional—others can't see your online status, while you can see others' online status.
How to Hide Last Seen on WhatsApp
The Last Seen status can be turned off easily before hiding your online status.
Step 1. Start by opening Yo WhatsApp. On the top right corner of the main screen, touch the three-dot. In the drop-down menu bar, choose "Settings".
Step 2. Next up, tap on "Account → Privacy". The last seen status can be accessed by tapping here.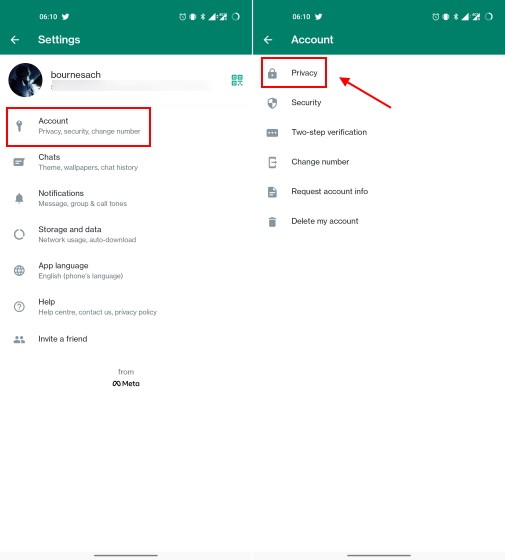 Step 3. Touch "Last seen" → "Nobody" to stop everyone from seeing your last online status.
Wrapping up
Regular users may have noticed the login status next to the names of their friends. But sometimes this status label disappears again. As written above, you can turn off this status display. This function is useful, for example, messages have often been disputed over whether they are sent, received, seen, or read. Using this function is a good way to protect your privacy. It hides your own status but allows you to view the status of others. Download Yo WhatsApp now and enjoy this high-end feature!
If you are interested in Yo WhatsApp, click on the button below to download it easily!
---
Tags
actualizar Yo whatsapp Aero WhatsApp apk Yo WhatsApp backup YO WhatsApp back up YO WhatsApp chat Baixar Yo WhatsApp Descargar Yo WhatsApp Download Yo WhatsApp New Yo WhatsApp Telecharger Yo WhatsApp update Yo WhatsApp WhatsApp Aero whatsapp yo YO WhatsApp YoWhatsApp Yo WhatsApp 9.82 Yo WhatsApp 2022 YoWhatsApp 2023 Yo WhatsApp 2023 Yo WhatsApp APK YoWhatsApp apk yo whatsapp atualizado Yo WhatsApp Download YoWhatsApp download APK Yo WhatsApp Fouad Mods Yo WhatsApp latest version Yo Whatsapp Mod 2022 yo whatsapp new version Yo WhatsApp site official Yo WhatsApp Stickers Yo WhatsApp terbaru yo whatsapp update YoWhatsApp V9.45 YO WhatsApp V9.45 Yo WhatsApp V9.50 Yo whatsapp v9.70 Yo WhatsApp V9.71 Yo WhatsApp V9.74 Yo WhatsApp V9.80 YoWhatsApp V9.81 Yo WhatsApp V9.82 Yo WhatsApp V9.93 yo whatsapp versi terbaru YoWhatsApp Скачать Yo Yo WhatsApp